It's impossible not to love Westies! The breed is both friendly and independent, plus they are surprisingly easy to handle. They make great companions, and it's hard to imagine that anyone who has ever owned one wouldn't immediately fall in love with the breed.
So, it's safe to say if you know someone who loves Westies, getting them a gift to remind them of their loved pooch will immediately be a hit. Whether for a holiday or birthday, you cannot go wrong when you find the best gifts for Westie lovers.
While there are plenty of products on the market, we've narrowed them down to our five favorites.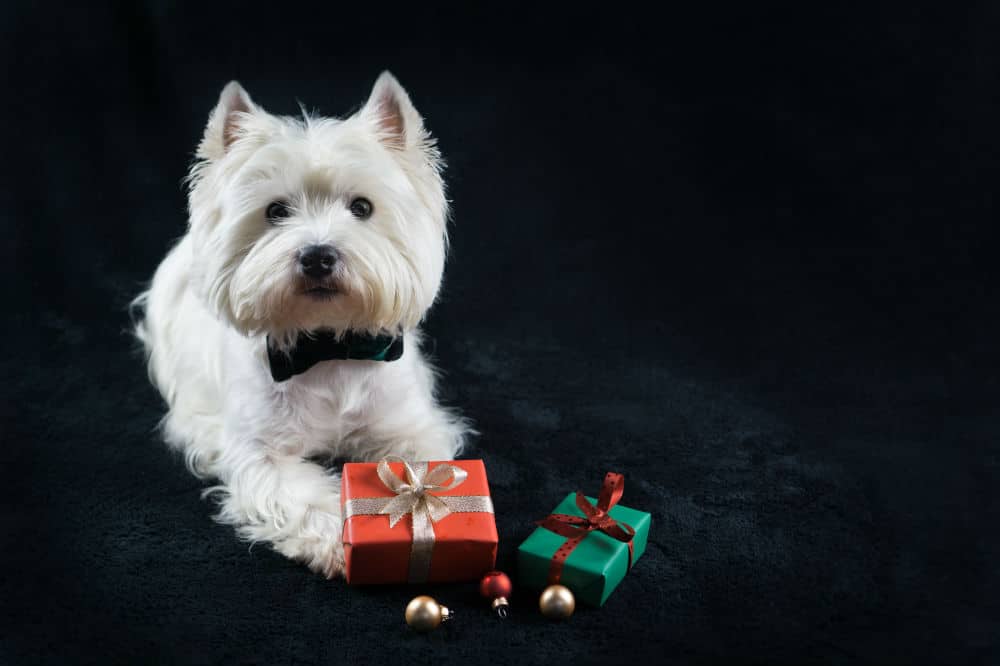 Gifts for Westie Lovers: A Review
1. Lina & Lily Westie Dog Infinity Scarf
This scarf is great for any Westie lovers who want to display their love while out and about. One look while wearing this scarf and everyone will immediately know the owner loves this breed.
Product Highlights
Not only is this a great conversation starter and display of Westie love, but it is functional too. The Lina & Lily Westie Dog Infinity Scarf is quite large, measuring 35 inches wide, and you can loop it around twice for a total of 70 inches. The material is fairly lightweight and soft.
The Good
We like that the Lina & Lily Westie Dog Infinity Scarf is not only a great way to display Westie love, but that it serves a purpose as well. You can wear this out, and it will not only keep you warm but will make a cute accessory to any outfit.
We like that the material is a perfect mix, as well. It really can be comfortably worn in nearly all the seasons of the year.
We also really like that it has a big size. It isn't awkward when trying to loop twice, as is the case with many other fashion scarves. It is the perfect size for wearing as a double loop. Since the material is light and breathable, it won't feel suffocating either.
We also really like that the pattern is pretty sophisticated looking. It doesn't look cartoonish, so you can even wear the Lina & Lily Westie Dog Infinity Scarf with a serious outfit. It works just as well on a Saturday afternoon running errands as it does as an outfit accessory at the office.
The Bad
We don't like that the Lina & Lily Westie Dog Infinity Scarf is only available in the white and black pattern. While those colors match almost anything, it would be nice to have the same pattern in more colors. This would increase the versatility of the scarf.
In addition, this scarf is designed to be used by a female. We'd like to see a design that was perhaps a bit more unisexual in design.
Pros:
Large size
Can be double looped
Pretty lightweight
Soft material
All-season use
Cons:
Only available in one color pair
Not unisex
CHECK LATEST PRICE ON AMAZON.COM
2. Eye-Max Westie Eyeglass Holder Stand
This stand ensures that glasses are never lost again and reinforces a love for Westies at the same time!
Product Highlights
This Westie Eyeglass Holder Stand is quite heavy and sturdy. It does have a felt bottom so that it doesn't damage any surface. It also isn't likely to slide from its resting place, which means that glasses are kept safe and secure.
The design is 100% original, so you won't find something that looks the same anywhere else. This is an excellent feature of the product as many Westie gifts can end up looking similar to each other.
If buying for somebody else, it also means that the owner won't have another item that looks the same. This stand is completely hand-painted with a glazed finish design.
You can use this stand just about anywhere you'd likely need your glasses. Put it in the bathroom, on your bedside table, or on the end table in your living room. The high glaze finish will make it stand out.
The Good
We love that the design is original. This is a huge benefit to the product, as many other gifts end up looking all the same. We love the high glaze finish since it makes the item pop. Very few products are actually hand-painted now as many are simply mass-produced.
We also really like that the Westie Eyeglass Holder Stand isn't flimsy and has a felt bottom. It isn't going to be easily knocked over, which is good when trying to protect delicate glasses. It also doesn't feel cheap, so we can feel confident giving this as a gift.
The Bad
We don't like that the holder doesn't seem to hold all glasses the same. For some reason, this holder seems to hold prescription glasses just fine, but readers seem to slide a bit. That could be related to the size difference or some other factor.
We aren't sure of the exact reason, but this is a real drawback. If you aren't sure what kind and size of glasses are worn by the person to whom you want to give the gift, you won't be sure the Westie Eyeglass Holder Stand is going to work for them.
Pros:
Original design
Heavy with felt bottom
Con:
Not compatible with all glasses or sizes
CHECK LATEST PRICE ON AMAZON.COM
3. Etched Laser Art Westie Wine Glass
This 12.75-ounce wine glass shows off a love for Westies, even while entertaining. This makes a great gift for any Westie lover who also happens to love a good glass of wine.
Product Highlights
This Westie Wine Glass has the convenience of being 100% dishwasher safe. It also comes with a satisfaction guarantee.
The glass is clearly made of high-quality material and seems quite durable. A laser is used to etch the design of a Westie right into the glass.
The Good
We really like that this glass is quite sturdy. You can feel its high quality just when holding it.
We also really love the overall look of the glass. A laser is used to actually etch the likeness of the Westie right into the glass.
Other imaging sources can fade over time or bleed, making them unrecognizable. The etching isn't as likely to lose its features.
We also really love that the Westie Wine Glass is dishwasher safe. Many other etched or engraved items cannot be placed in the dishwasher, which can be inconvenient.
The Bad
What we didn't like is that the etching is a bit lighter than you might expect. As such, the etching does not always seem to represent a Westie's features accurately. Aside from the size of the dog, it would be hard to tell the actual breed based on some of the lasering.
The lightness can sometimes make it hard to discern the features of a Westie, which is unfortunate. In addition, it is marketed as a 12.75-ounce glass, but we think that is a bit deceiving. The glass is a bit smaller than you would think when you hear that measurement.
Finally, if you don't want to gift just one glass, you will need to purchase several glasses individually. There is no option for ordering a set of these glasses. We see the appeal in purchasing, but it would be helpful to buy multiple glasses as one order if you want to buy a set.
Pros:
Satisfaction or etching guaranteed
Charming design
Dishwasher safe
Cons:
Etching can be weak and not too accurate
Cannot order as a set
CHECK LATEST PRICE ON AMAZON.COM
4. Cosmos Gifts Westie Salt and Pepper Shakers
These salt and pepper shakers make our list because they are perfect for displaying Westie love through home décor. They are especially functional during the holidays.
Product Highlights
As the name implies, the Cosmos Gifts Westie Salt & Pepper Shakers includes two Westies shakers, one for pepper and one for salt. Each Westie is crafted to include the features all Westie lovers have come to adore.
Both Westies are wearing their own scarf, the colors of which go perfectly with the holiday season. One Westie is adorning a green scarf while the other is wearing red. Even though the colors speak to the holidays, there is no reason these shakers can't be used the whole year through, if the owner would like.
Dimensions of the shakers are 2.88 inches in height, 2.63 inches in width, and 1.75 inches in diameter. They are a good size without being overwhelming, and they fit well on any dining or kitchen table.
The Good
These shakers look just like Westies! We really like the likeness they feature. Some other items that claim to look like Westies lack a good resemblance to the breed.
If we want items that display our love for Westies, we actually want to see the features of the breed in the item. You really do get those features with these shakers.
We also like that these shakers are quite durable. They have a reasonable weight when you hold them, so they seem like they will stand up against regular use really well. They don't feel cheaply made or like they will wear out quickly.
We also just love that these shakers make such a great gift. Anyone who loves Westies will want to display these in their home, and if used at Christmas time, they make a great conversation starter while entertaining.
The Bad
While these are adorable Westies, we wish that you could purchase the shakers with the dogs wearing different colored scarves. We like the green and red, but it would be nice to be able to customize the colors.
If other colors were available, these shakers wouldn't look like they are reserved for use only for the holidays. Owners could even choose colors similar to their dog's collar's color if they wanted to.
Pros:
High durability; built to last
Great likeness to the Westie breed
Good size
Con:
Only available with red and green scarves
CHECK LATEST PRICE ON AMAZON.COM
5. Imagine This Wood Sign for Westie Dog Breeds
This wood sign is an easy way to display a love for Westies. Its design is cute yet simple and can be used as a great conversation starter when company arrives.
Product Highlights
The Imagine This Wood Sign for Westie Dog Breeds can be hung indoors. There is a rope attached for easy hanging.
The design of the sign is quite stylish, with a charming picture of a Westie alongside the words "It's not a HOME without a Westie".
The dimensions of the sign are 10 by 0.2 by 5.5 inches. It is small, but works well given that it is designed for indoor use only.
The Good
We really love the overall design of the Imagine This Wood Sign for Westie Dog Breeds. It is really easy to use since it can very quickly be hung on a wall using the attached rope. It is a great way for any Westie lover to showcase their affinity for the breed.
The sign is quite durable and has the perfect size for hanging indoors. It is not too big for an interior wall but will still grab the attention of visitors. Since it is inside, it makes for a great conversation starter when entertaining company.
Lastly, we love that just about anyone can enjoy this sign. It isn't geared toward one gender. It also doesn't require an interest other than Westies. Its only specificity is that the owner loves Westies.
The Bad
We wish that this sign could be hung outdoors as well as inside. It would make a good addition to any porch or deck, especially when entertaining.
Pros:
High durability
Really cute design with both saying and photo
Easy to hang
Con:
CHECK LATEST PRICE ON AMAZON.COM
Buyer's Guide
The most important consideration when choosing a gift for a Westie lover or yourself is making sure it accurately represents the beloved Westie. There are plenty of gifts from which to choose, but there are a few key things you should keep in mind when making your selection.
While we've narrowed down a list of the best gift ideas for Westie lovers, you'll still need to make your final choice. Here are some things to keep in mind when you do so.
1. Kinds of Gifts
Loving Westies can really be shown off at any time. That's why there are all different types of gifts for Westie lovers. Whether you want to purchase something that can be worn, displayed, or used for entertaining, you can find it.
It is possible to display a love for Westies at all times. You'll want to consider the person for who you are purchasing the gift. You'll need to decide if they are someone who would want to wear a Westie accessory while out and about. You'd also want to think about if they are someone who enjoys lovely home décor and would rather have something to display in their house.
There are plenty of gifts available, but you'll need to decide exactly what kind of gift to purchase.
2. Durability
As is the case with all gifts, you want to ensure that the product you purchase stands up against any reasonable wear and tear. You don't want to gift someone something that falls apart. That means making sure the gift is constructed well and uses appropriate materials.
That can sometimes be a bit challenging when shopping online. Each of the gifts highlighted here is of high quality and made from durable materials.
3. Usability
Functionality is always a strong consideration when buying gifts. That remains the same when looking for the best gifts for any Westie lovers. While part of the functionality is undoubtedly just displaying love for Westies, you also want to make sure the person you are giving the gift to can actually use the item.
That use may be a simple display in the home. It may be a spot to place their glasses when they aren't using them.
It could even be a wine glass that gets used only when entertaining. It doesn't truly matter what the use is but rather that the gift can be displayed or used.
There is no reason a gift for a Westie lover can't also be functional. Buy a gift that is both decorative and useful.
4. Originality
One of the features specific to a gift for Westie lovers that you want to keep in mind is the originality factor. Most gifts you can find are mass-produced and lack uniqueness, but that doesn't have to be the case. If you want to choose something one of a kind, it is entirely possible to find that in gifts for a Westie lover.
You can do so by ensuring the gift states that it is of an original design.
5. Likeness
There are plenty of gifts on the market for Westie lovers, but they are not all made equally. Given how mass-produced most items are today, many gifts end up losing much of the unique features of a Westie. As a Westie lover, you want to be able to see the features of the dog you love.
Some items will claim to be displaying a Westie, but truly the photograph or image could really be any dog. The likeness to a Westie is just not there. You aren't buying an item for a dog lover in general; you are buying one for a Westie lover, so make sure the dog resembles an actual Westie.
This is something to really look at when purchasing a gift for a Westie lover. You don't want the item to resemble just any dog. You want to take your time and find an item where you can accurately make out the features of a Westie.
6. Keep the Breed in Mind
We all know Westies are playful and lighthearted. Even if you know nothing else about the person you're buying for, you will have an idea of the kind of features they like in a dog. Their owner is likely patient, as this breed often requires some training and is active since these dogs don't usually enjoy cuddling.
You can use this information to your advantage. It can help you in selecting the perfect gift for them.
FAQs
1. How Do I Know My Gift Is Durable?
Much of our shopping now takes place online. Naturally, it is harder to determine if a gift will hold up to wear and tear if you aren't able to feel and touch it yourself.
Nonetheless, you can still check out the dimensions of the product as well as the weight. Generally speaking, heavier items will often be more durable or be made of more sustainable materials. You can also often find exactly what materials are used in manufacturing the product.
In addition, lasers make for a far more durable product than some other imaging sources that may bleed or fade over time. These are all things to consider when making your purchase.
2. How Can I Ensure Usability or Functionality?
When narrowing down your choice, make sure that you are choosing the gift based on the needs of the person for whom you are buying it. It really can be quite that simple.
Don't purchase a wine glass for someone who enjoys a beer over wine. Similarly, don't buy a glasses stand if the person you're buying for doesn't wear glasses.
That said, if you know the person you are buying for loves Westies, and you don't know anything else, that's okay. There are plenty of more generic items that any Westie lover would enjoy.
The item does not have to be specific to the person. You may just want to find something that appropriately displays a love for Westies.
Conclusion
We think that all Westie lovers will enjoy the five items in our list of the best gifts for Westie lovers. If you love Westies, you'll love these items, and who couldn't love Westies? With that said, our top choice is the Imagine This Wood Sign for Westie Dog Breeds.
The item is gender-neutral and can be displayed the whole year through. Also, all you need to know about the person for whom you're buying is that they love Westies. If you are shopping for a coworker or acquaintance, or someone else you don't know that well, this item still works well.